Nissan Datsun Rally Wheels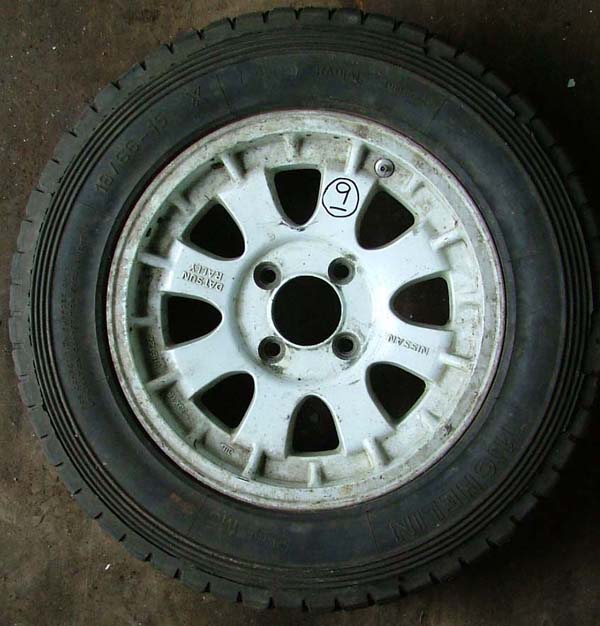 A very rare opportunity to purchase a batch of Used Nissan Datsun Rally Wheels.... SOLD!
These wheels are no longer available, but the page and pictures have been left for reference to aid anyone restoring the same...
Please read the description below and then view the picture gallery at the bottom of the page....
As you are probably aware, the Nissan Datsun Rally wheels are a very strong period wheel, and were used on many Nissan 240RS 's in the 1980's....
These wheels are Nissan fitment, but please refer to the Chet offset which is listed unless unknown...
They do not become available for purchase very often, and are usually snapped up almost immediately.....
They are sold as pictured BUT minus the tyres.....
The Tyres are available extra if required, but most of them are of no use...
The wheels in this series are all 7" x 15", this is shown in the picture descriptions below...
Six of them have offset markings on them of Chet 22, and the remaining four have no offset markings...
Any obvious damage to any wheels has also been noted in the descriptions, although almost all of these wheels are in very good condition...
The wheels are being sold as a complete batch of Ten Wheels (No Tyres)....
These Wheels are extremely rare and the price reflects that....
More Detailed Pictures or information can be supplied on request, please check out the other pictures below!
Please Click on the Thumbnails to view bigger Pictures!
Please Note:THESE WHEELS ARE SOLD!
For more information, or to request more detailed pictures, please use the e mail address below..