Nissan 240RS Evolution Type Front Struts
SORRY THESE UNITS ARE NOW SOLD!
A rare opportunity to purchase a pair of Unused Nissan 240RS Evolution Type Front Struts.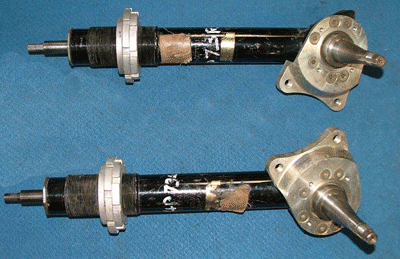 These items are no longer available, but the page and pictures have been left for reference to aid anyone restoring the same...
These Suspension Units are unused period spares, and are complete with Caliper Brackets, Inserts and Spring Platforms.
The Suspension Units are Stamped Up with "Nissan Atsugi Japan".
The Left Hand Strut is stamped Y4P73L and 54302Y4P7.
The Right Hand Strut Y4P73R and 54302Y4P7.
Both Piston Rods are perfect with no pitting or marks from storage. The damping still feels as it should, although as with any competition suspension, a pre use service/check would be recommended.
For that reason, these Nissan240RS Evolution Type front struts are being sold "For Re-Build"
The Damper Rates are Unknown, and the Approximate Measurements of the Suspension Units are shown below.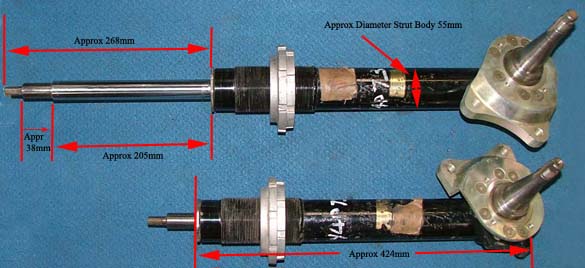 As can be seen in the pictures below, there are scrapes to the paintwork, and the stub axles and other parts of the units show discolouration from oxidisation and light surface rust at some time during their twenty years or so of storage!
Click on the Thumbnails Below to view bigger pictures.

Note:These are optimised for faster loading in your browser! Bigger and more detailed pictures can be e-mailed to you on request!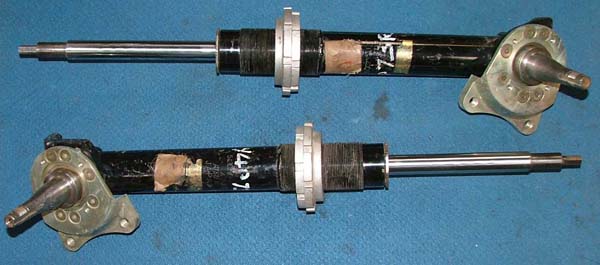 Choose an image to begin
As you will be only too aware, to find an unused pair of these Units is so unlikely, it is almost like stumbling upon the Holy Grail (except much more useful)!
Just to have the Caliper Brackets made by a competent Engineering Shop would cost in the region of £200 Sterling Each!
Therefore to be Fair to everyone, and taking into account all the different time zones of the Nissan 240RS list members.
We have decided to invite Tenders for this pair of Suspension Units, for the next Seven Days, because
That way everybody gets a stab at owning these and not the first person to read his e mail or stumble upon them via Google God!
Don't Miss Out on this Rare opportunity, send your Tender in Immediately!
Should the Units not reach their "Reserve Price", then they will be offered to the list on a first come first served basis at a preferential discount, before being left on these pages at a fixed price until they sell.
Send Your Offer to the following e mail address, with Evo Struts in the subject line if possible please!
All offers will be subject to vat if applicable at the UK rate of 15%.