Group B Nissan 240 RS Spares
"Special Offers Page"
Rare, Period, Metal Body
Terratrip 2 Rally Tripmeter

As Pictured Below: A Rare Metal Bodied Terratrip Trip Meter....
"Buy it while you can because...When Its Gone,Its Gone!"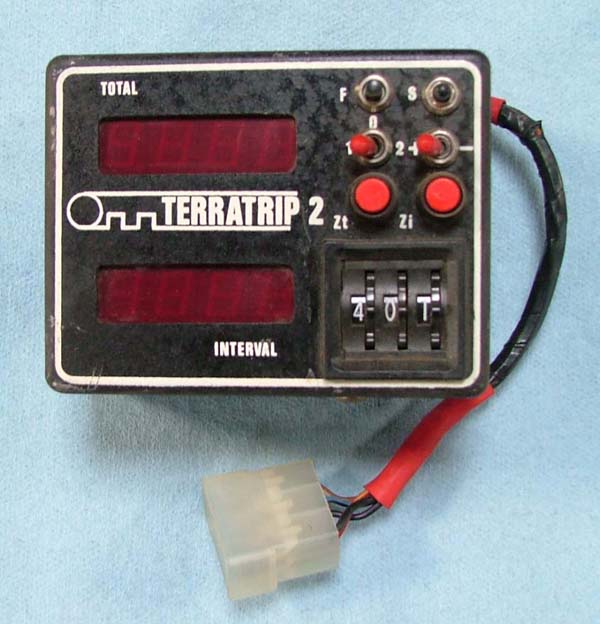 PRICE SLASHED FOR THIS RARE PIECE OF NAVIGATIONAL EQUIPMENT, AS PICTURED! 33% OFF!...
This is an original Period Terratrip 2 Metal BodiedTripmeter....
As with all Period Competition Parts, the Tripmeter is sold as pictured.... It has been powered up, and the displays can be seen illuminated in the gallery below, also it was fully working when removed from one of our own cars ten years ago for a "Modern Upgrade", it has been sat in a cupboard since then, and was only added to the sales list a month or two ago... So in theory it should work perfectly fine....
It has a black crackle finish coating, and it still has its original thumb screw fasteners, which usually get lost over time....
It is in excellant condition for its age, though it has a few scratches as can be expected and clearly seen in the pictures....
The Trip has a nice professional wiring loom with a Lucas plug fitted, a matching half of this plug can also be supplied if needed...
There is no wheel sensor with the trip, although these are still readily available.....
The perfect finishing touch to your Period Rally Car Build or Rebuild...
So grab it whilst you can... because if you don't then someone else will!!
See the pics below: Click on the Thumbnails to view them bigger!
For more information, or to request more detailed pictures please use the e mail address below..
Prices will not be on the Web Page however (to be fair to list members)....
List members will be e mailed when an offer goes live, along with its Web Page Link, duration and Price....
Items will be sold on a "First With The Money" Basis, and will not be reserved on an inquiry of interest.... (Again to be fair to all list members)....
To get the latest special offers and stock lists from Nissan-240RS.com, fill in your name and email address below!
Only Subscribing members will receive the "Members Only" Special offers and Import and Clearance Bargains Notifications!
Note Your email address will never be shared or sold to anyone EVER! We hate Spam as much as you!